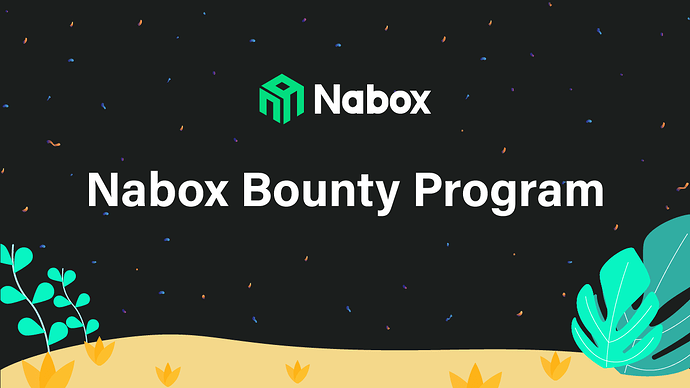 Dear Boxers,
It's been a whirlwind 2021 and Nabox has seen numerous improvements and additions to its product line (SwapBox, ParaBox) as well as integrated numerous new chains (Polygon, Harmony, KCC, Heco, OEC).
We are still in a very early stage of development and have much to look forward to.
To reward active users, we have created a bounty program where useful suggestions and feedback in different areas, be it product, UI/UX, feature ideas, marketing ideas etc that could help us build a better Nabox, will be rewarded.
Details:
Suggestions to be submitted on this page.
Winning suggestions will be selected on a monthly basis and announced on Twitter.
5 - 20 good ideas will be selected monthly and rewarded with 500,000 $NABOX each.
The rewards will be claimable on ParaBox.
We reserve the rights to alter the rules where we deem fit.
---
Nabox社区小伙伴们:
大家好 !
我们的Nabox App上线至今,得到了数万社区小伙伴的鼎力支持。
Nabox产品从使用功能、体验以及生态建设等方面,正持续朝着既定的方向迈进,这其中凝聚了团队和所有社区成员的付出和心血。作为Web3的用户入口,我们在保证功能、性能以及满足更多的场景需求前提下,始终把安全性放在首要位置。
Nabox旗下生态主要有:Chrome插件钱包、安卓/ iOS移动端钱包、多链资产智能跨链兑换聚合器SwapBox、空投工具ParaBox。已支持Ethereum、BSC、Polygon、Harmony、KCC、Heco、OEC、NULS、NerveNetwork和自定义EVM系列公链,即将支持对接Avalanche、Fantom、Cronos 、Tron 等网络 。根据项目未来的规划发展,还会有KeyBox、PayBox、NFT、GameFi等领域产品/工具的相继推出。
目前,Nabox仍处于发展前期,用户体验在很多地方做得还不够好。为了更好地为Nabox用户提供服务,提升Nabox产品的用户体验,我们需要社区更多的帮助,为Nabox生态产品在功能完备性、稳定性、健壮性、持续发展性等方面提出改进建议或Bug反馈。
用户体验反馈奖励规则:
我们将按月筛选出5-20条有效的改进建议或Bug反馈,每条奖励500,000 NABOX;

每期获奖的社区小伙伴名单,我们会公布在Nabox论坛和推特渠道;

获得奖励的社区小伙伴,请在ParaBox中领取您的奖励;

最终解释权归Nabox团队所有,随着市场的不断变化,我们可能会适时调整奖励金额。
社区小伙伴们,抛出您的法宝锦囊,请在本论坛下方留下您的宝贵建议吧!
Nabox生态的每一步成长与发展,需要你、我、大家的共同陪伴与支持。