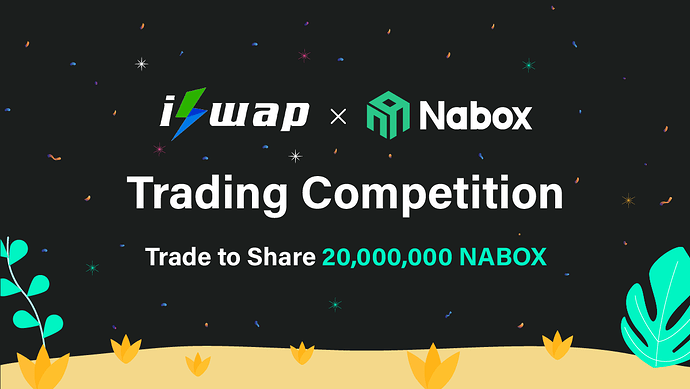 Nabox integrated iSwap swapping routes on Jan 10th.
Trade on SwapBox to share 20,000,000 $NABOX giveaways!
SwapBox focuses on cross-chain integration swap, supports over 1000 different assets from both layer1 and layer2 network, provides seamless crosschain swap experience for you to travel in multi-chains and get access to many kinds of applications. In the near future, we will integrate more swapping routes on SwapBox, along with a much more friendly user experience.
To express our gratitudes and encourage more people to actually dive into Nabox SwapBox features. Here comes the 20,000,000 $NABOX giveaway event!
Event Duration
08:00 AM (UTC) Jan 25th — 08:00 AM (UTC) Feb15th
Facts and Rules
A snapchat of your trading amounts (including crosschain/none ccrosschain swap) on will be taken daily during the event.
Rewards are determined based on your transaction amount as a percentage of the total transacted amounts.
E.g if your transaction amount adds up to 10% of total transacted amount across all users, you will receive 20,000,000 * 10% = 2,000,000 NABOX as rewards.
3. Claim Rewards
Winners will be announced within 3 working days after the event. Rewards can be claimed on ParaBox via Nabox Wallet.
Link to ParaBox: https://parabox.nabox.io
4. SwapBox User Guide
(EN):Nabox Guide: Use SwapBox to swap, cross-chain swap and farm
Join the Nabox Community
▲ Website: https://nabox.io
❒ Whitepaper: https://nabox.io/litepaper.pdf


Telegram: Telegram: Contact @naboxcommunity


Twitter: https://twitter.com/naboxwallet


Discord: Nabox


Medium: https://naboxwallet.medium.com

About Us
Nabox is a Cross-chain DeFi wallet with DID capabilities built for Web3.
Built on the cross-chain friendly NULS blockchain, Nabox enables seamless transactions and swaps across various chains via NerveNetwork technology.
Nabox — the simple, user-friendly gateway to DeFi.