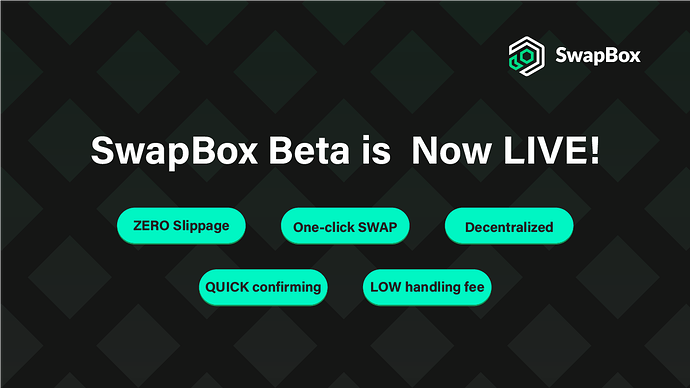 Dear Naboxer:
SwapBox (Beta) has been released right on time! The Nabox team aims to bring a safe, convenient, efficient cross-chain swap experience for all users, we have launched a Beta version based on the mainnet this time. In order to improve SwapBox for a better user experience, join the trial run with us, simply install the Nabox beta and use some of our features. We're always happy to hear your suggestions, that's how we improve our service and optimize our products!
SwapBox is a cross chain swap tool that integrates with multiple pools from both Layer 1 and Layer. SwapBox focuses on it's crosschain integration feature, the latest beta version provides not only swap services but also cross chain swap features over hundreds of different assets such as USDT, ETH, BSC, UNI…… And we are adding more!
Transfer&Swap USDT between multiple chains and stake USDT to earn USDTN (LP) with SwapBox.

SwapBox provides a decentralized crosschain swap solution for USDT with ZERO slippage and low handling fees.

Support Swap and cross chain swap on ETH, Heco, BSC, OKExChain for over hundreds different assets such as USDT, BUSD, ETH… And we will be adding more!
SwapBox creates a smooth route for your assets to transfer&swap between different chains, by doing that, you will be able to participate in many applications over different blockchains freely. We, the Nabox team, are much appreciated for your support and love. SwapBox is still in the early stage of it's roadmap. In the future, more Swap channels will be gradually aggregated, NABOX tokens will be listed on SwapBox and MORE liquidity will be added for LP mining. Stay tuned!
SwapBox : https://swap.nabox.io
Install Nabox App:
Google Play:https://play.google.com/store/apps/details?id=com.wallet.nabox
iOS:Join the Nabox beta - TestFlight - Apple