ChainSpot: To establish a "ChainSpot '' social zone, We garther, analyze and deliver the latest information of the crypto market to a small number of people. Bonus always fortune to those who take earlier moves and we are here to guide you.
1.Hop Protocol
A bridge that links ETH Mainnet, Polygon, Arbitrum, Optimism and xDai. No hints of token launch yet.
Take USDT as an example, transfer USDT from Polygon to Optimism .
For a larger chance of getting airdrop, you may also add liquidity.
2.Arbitrum
The popular L2 layer project. An investor of Arbitrum, Divergence Ventures, seems to be aiming for the airdrop as well (For mass scale of course).
Bridge from ETH Mainnet to Arbitrum. You will need to pay ETH gas fees.
3.Optimism
Competitor of Arbitrum's. Divergence Ventures also gaming for this airdrop.
Bridge from ETH Mainnet to Optimism. You will need to pay ETH as gas fees.
4.SwapBox
SwapBox is cross-chain aggregation protocol in Nabox wallet, supports USDT swap on multi-chains with 0 slippage, you can staking USDT on SwapBox and get USDTN to participate in liquidity mining. SwapBox is a beta version currently, but it was announced that in the near future other swap channels such as iSwap will be gradually integrated.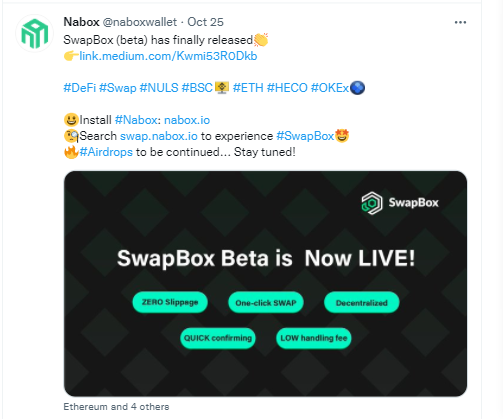 As written in the project white paper, there is still a large scale of tokens to be airdropped. Increase the chance to win airdrops by participating in SwapBox testing.