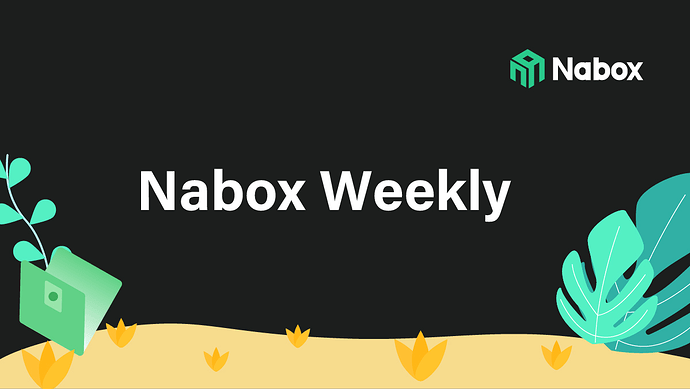 NaboxSwap
NaboxSwap completes Swft flash channel access.
Nabox Pool has been developed and tested.
The Nabox vaults USDTN/NABOX pledge is partially developed and has entered the testing phase.
Nabox vaults NABOX-BUSD Cake LP pledge functions are in development.
Added web3j-vaults contract query tool.
Added BSC-vaults contract user pledge information query.
Added query interface for BSC-vaults contract.
Nabox App
Corrected the error that occurs when scanning QR code for transfer.
Multiple pages support percentile separators.
Fixed the problem of the asset icon not displaying on the transfer confirmation page.
When transferring money across the chain, judge whether the Nerve address handling fee is sufficient and give correct prompts.
In the transaction list of the first page and asset details, the sender's address is displayed if it is transferred in, and the recipient's address is displayed if it is transferred out.
Fixed the problem of multiple displays of transaction hash in some cross-chain transaction details.
In the confirmation page of the change transfer, the asset logo should be processed in the same way as the asset logo on the asset details page.
Community Operation
Nabox App Launches GameFi Column Application Recommendation.
Joined ApeSwap and NULS to hold AMA events on Reddit.
Joined HoneyFarm to promote and launch NABOX-BUSD Cake LP mining.
Launched the DApp application of 7 projects and jointly promote.
Nabox Liquidity Pool updates:
ApeSwap Pool $420K
PancakeSwap Pool $120K
Biswap Pool $290K
Uniswap Pool $110K
Nabox Community updates:
Twitter followers are over 41.6K
Telegram community members are over 31.7K
Discord community members are now 30.1K

Join the Nabox Community
▲ Website: https://nabox.io
❒ Whitepaper: https://nabox.io/litepaper.pdf


Telegram: Telegram: Contact @naboxcommunity


Twitter: https://twitter.com/naboxwallet


Discord: Nabox


Medium: https://naboxwallet.medium.com