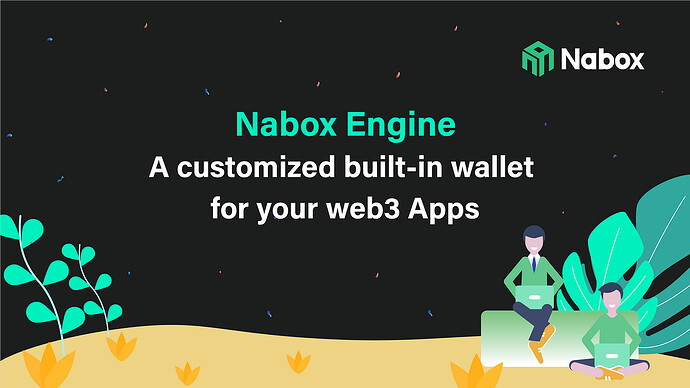 We are excited to announce that Nabox has launched Nabox Engine, a wallet-as-a-service product. It aims to help Web3 and Metaverse applications quickly and cost-effectively create their own wallet apps. Application developers can easily integrate their own application scenarios on top of the wallet without having to develop a wallet module.
The slow progress of the blockchain industry and applications is largely due to the lack of uniform standards and the variety of mainstream blockchain underlying frameworks. In the past rapid development of DeFi, EVM-based wallets led by Metamask have become the main entry point for Web3 users. The rapid development of the Ethereum ecosystem is also due to the improved user experience and lowered threshold of basic tool products such as wallets.
Nabox's vision is to enable users to enter Web3 applications in the most convenient way. At present, Nabox Wallet already supports more than 60 blockchains and has received support from more than 300,000 users. At the same time, Nabox's user experience is gradually improving.
Wallet as a Service (WaaS) enables enterprises and developers to easily leverage blockchain technology without having to deal with cumbersome tasks such as setting up connections to blockchain nodes or designing private key storage solutions. For example, if your team is developing a mobile game and wants to integrate a wallet function module into your game, using Nabox Engine can meet the needs of your application faster and at lower cost without having to redevelop the wallet function or set up blockchain nodes.
Nabox hopes to grow together with more excellent teams and projects to help the development and construction of Web3 applications. In addition to the Nabox Engine product, Nabox Wallet also provides many basic tools that we hope can help some projects.
Contact us:
Twitter:https://twitter.com/naboxwallet
Telegram:Telegram: Contact @naboxcommunity
About Us
Nabox is a cross-chain DID application built for Web3.
With Nabox, you can manage assets across different blockchains whether for DeFi, GameFi, NFTs, and other use cases that come up. Nabox is your gateway to the multi-chain world.
Nabox uses an asymmetric cryptographic algorithm as the basis of Nabox's DID. Users use the same set of keys and public keys to manage assets and data on different blockchains.
SwapBox aggregates mainstream DEXs to provide users with asset exchange and asset cross-chain exchange, and intelligently find the best exchange path.
Nabox — The Multi-Chain DID Gateway to Web3
SwapBox — The Intelligent Cross-chain DEX Aggregator