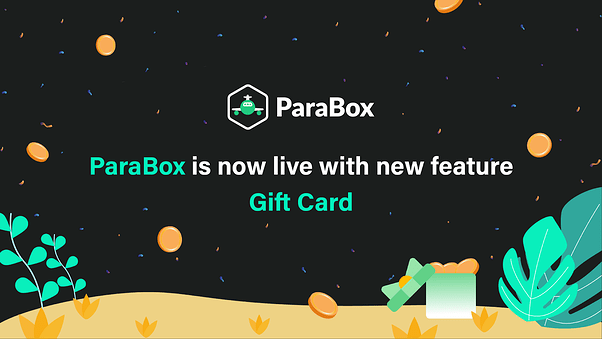 Dear Naboxers,
Nabox airdrop tool, ParaBox, now has updated to new features — Gift Card, airdrop, and square! Welcome to visit ParaBox by Nabox Wallet App or Chrome plugin.(Link: https://parabox.nabox.io)
The transactions by ParaBox will be recorded on blockchains transparently. The transactions across NERVE network cost you completely 0 gas fee, no matter you send or receive. Now ParaBox has supported assets from 22 blockchain networks, including Ethereum/BSC/Polygon/Avalanche/Heco/OKC/TRON/NULS/ENULS/NERVE/Optimism/Arbitrum/Fantom/Harmony/KCC/Cronos/IoTeX/Metis/Klaytn/smartBCH/KavaEVM/ETHW.
ParaBox also supports Nabox partners and Nabox communities to create airdrops, red packets, and gift cards to give away tokens from different blockchains.
Let's see how this works! (This tutorial takes iOS version as example.)
1.Enter ParaBox DApp listing on Nabox Wallet
[1] Open Nabox Wallet.
[2] Click upper left logo to switch to any network ParaBox supporting.
[3] Search and find "ParaBox" in DApps and click to enter.
NOTE: Please click "Refresh" if there is no entrance for gift card.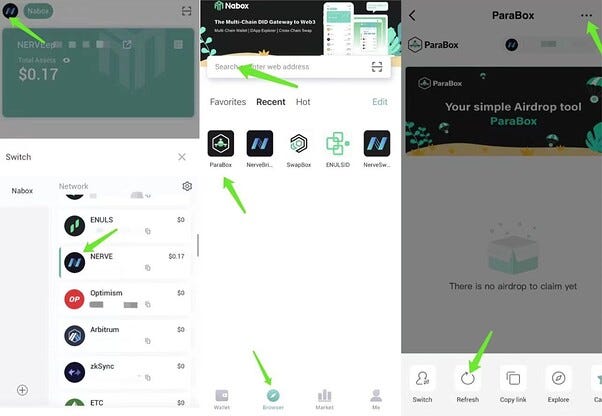 2. Create a gift card
[1] Click "create" and select "Gift Card".
[2] Fill out the Gift Card name, select gift card asset, type the number of assets in a single gift card, select gift card deadline, and type gift card quantity.
[3] You can check your created Gift Card in the "Record", then copy the code to send it to the person you want.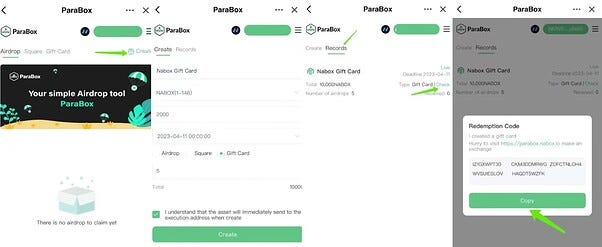 3.Claim your Gift Card
[1] Claim your Gift Card in the main page of ParaBox.
[2] Input the code then click "Query".
[3] Click "Claim" .
[4] After claiming, please remember to add the token on NERVE network to check.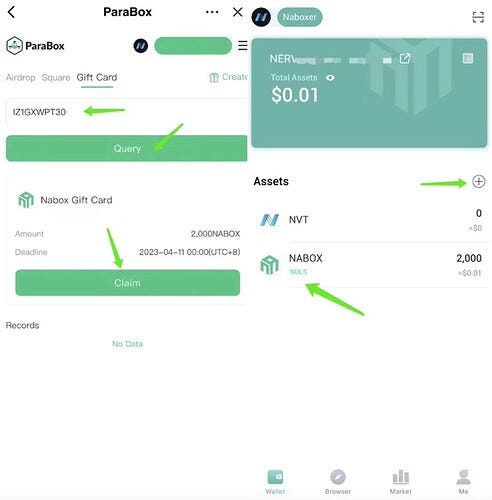 4.Red Packet Square
Everyone can claim one red packet from square.
[1] Click "claim" and choose "square". Then input red packet name, select red packet asset, type the number of assets in a single red packet, select red packet dealine, and input red packet quantity.
[2] When the transaction is confirmed, you can see the red packets in the square. Click "Cliam" to try your luck.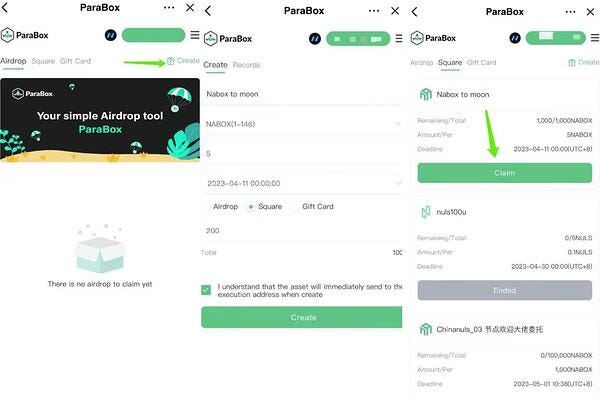 5.Airdrop
Airdrop aims to certain NERVE/NULS/EVM addresses.
[1] For projects and users, you can create your own airdrop by ParaBox. Click "create" and choose "aidrop". Then input airdrop names, select airdrop asset, type the number of airdrop for a single address, select airdrop deadline, and input the address you want.
[2] When corresponding address enters ParaBox, you will see the receivable airdrop.
[3] After claiming your airdrop, please switch to NERVE network and add the token to check.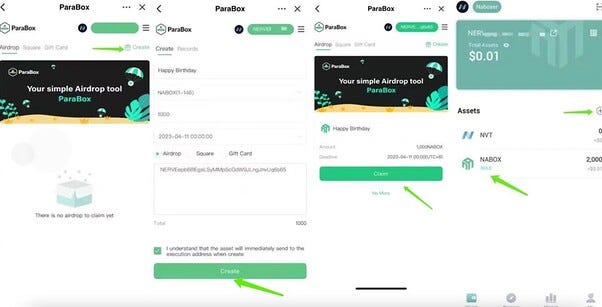 If you have any other question, welcome to join Nabox communities. We will help you.
Telegram community:Telegram: Contact @naboxcommunity
Discord community:Nabox
Please keep following us, we will give out airdrops, Gift Cards, and red packets from time to time!

Join the Nabox Community
▲ Website: https://nabox.io
❒ Whitepaper: https://nabox.io/litepaper.pdf


Telegram: Telegram: Contact @naboxcommunity


Twitter: https://twitter.com/naboxwallet


Discord: Nabox


Medium: https://naboxwallet.medium.com

About Us
Nabox is a cross-chain DID application built for Web3.
With Nabox, you can manage assets across different blockchains whether for DeFi, GameFi, NFTs, and other use cases that come up. Nabox is your gateway to the multi-chain world.
Nabox uses an asymmetric cryptographic algorithm as the basis of Nabox's DID. Users use the same set of keys and public keys to manage assets and data on different blockchains.
SwapBox aggregates mainstream DEXs to provide users with asset exchange and asset cross-chain exchange, and intelligently find the best exchange path.
Nabox — The Multi-Chain DID Gateway to Web3
SwapBox — The Intelligent Cross-chain DEX Aggregator