Learn how to buy your $DPET tokens and grow your pets!
Pets in the Digitalverse
One of the hottest trends in Decentralized Finance (DeFi) has become the gamification of non-fungible tokens (NFTs). My DeFi Pet is a game that has taken DeFi on Binance Smart Chain (BSC) by storm and brought the world of digital pets to the world of NFTs.
Ideal for pet lovers, the game lets users create a pet NFT collectible based on their own personalities. Think Pokemon meets NFTs.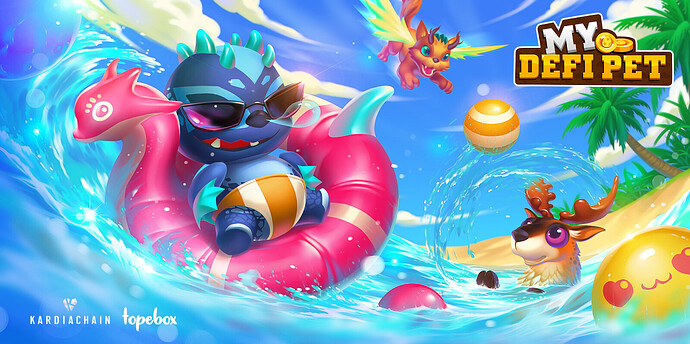 The game is still in very early stages, but in just a few short months the beta version has gained over 100,000 token holders and 1million eggs bought. In this article, we will explore how you can get started with your own DeFi pet on the My DeFi Pet metaverse.
Get $DPET to Start
Users must first have access to a digital crypto wallet like MetaMask or Binance Smart Chain wallet.
In order to buy a pet on the My DeFi Pet universe, you will need to own $DPET Tokens. From the beginning, you will need to buy the egg of a pet with your $DPET tokens and help it grow.
$DPET tokens can be purchased on a decentralized exchange connected to BSC using the following smart contract: 0xfb62ae373aca027177d1c18ee0862817f9080d08.
On an exchange like PancakeSwap, users can trade $DPET for myriad tokens. It is as simple as inputting the contract address above into the exchange.
Once you have your $DPET tokens purchased head over to the My DeFi Pet site to begin your adventure and buy some eggs.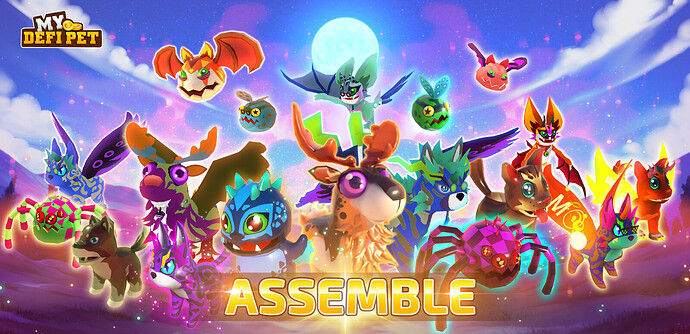 Source
How to Buy Eggs
On the DeFiPet site, you will need to head to the Shop and purchase your first egg. Make sure that you enable $DPET token purchases and in your wallet as well. Once you have approved the transaction purchases for one egg you will be able to begin your pet's growth.
Each DeFiPet egg costs three $DPET tokens at this time. The My DeFi Pet token has a current value of $5.52, and has been as high as $7.17. This means an egg costs around $15.
The egg will be deposited into the incubator on your profile's home screen after purchase. When you find the egg in your incubator you will need to click on it several times to break open the egg.
The egg should break and reveal your pet! Each monster will be birthed with a random set of attributes.
How to Grow Your Pet
Currently at this time users are only allowed to buy a pet and breed. There is no marketplace for different pets. You will be able to grow and harvest a variety of fruits on different farm fields to feed and raise your pets. Feeding your pet is the best way to grow your pet.
You have the choice of custom fields and cages to serve as a pen to help boost different pet stats. In the game users can acquire silver to help build new cages.
The pets work in the cages to earn silver and other gems to buy more farms, seeds, and other cages. Each cage can only hold three eggs so beware of how fast you wish to build out.
The game then begins its own ecosystem of improvements. Users can increase food amounts with farming yields and feed their animals to help increase the levels of their pets.
There are currently a few different varieties of upgrades for all mechanisms in the game. More features are on the way.
The latest features added a big game change. Once your My DeFi Pet hits level 10, you can begin to breed them. Breeding adds a whole other level of improvement. The more pets you have, the more size––more valuable–– your farm becomes.
Expected Features
The MyDeFiPet game is not completely built out yet. The game looks to incorporate battle, staking, and storage, plus a ton of other social features according to the phase chart from the developers. The new updates should be coming in late 2021 and into 2022.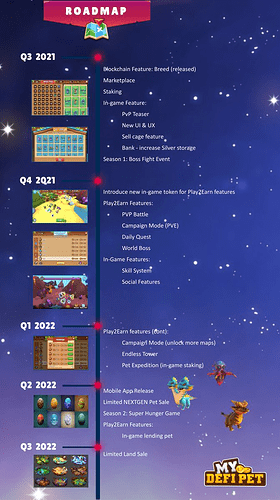 The game has been trending for a number of weeks now. As MyDeFiPet continues to onboard more features the user base will surely go up.
The low fees offered by BSC and the fun features will definitely pull users away from games like Axie Inifinty. MyDeFiPet is certainly on the rise for good reasons.
For More Information about My DeFi Pet, follow their socials: