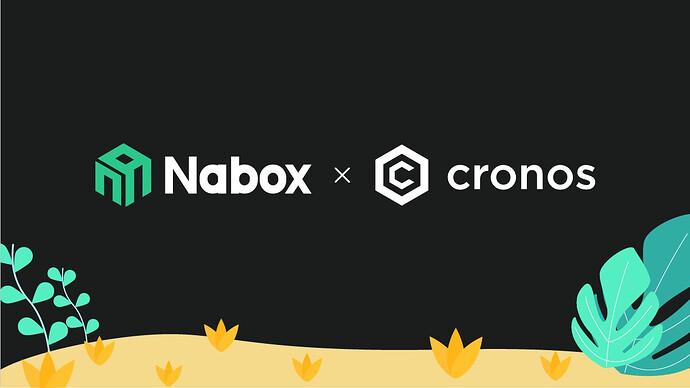 We are excited to announce the strategic partnership between Cronos and Nabox!
As a gateway to Web3, we look forward to the growth and progress of the Cronos ecosystem. Nabox will be providing support and services to increase market share, with a superior user experience for DApp users.
In the coming months, we will be rolling out the following in conjunction with Cronos:
Nabox Chrome Extension will be supporting Cronos mainnet and DApps
Nabox mobile applications will be supporting Cronos mainnet and DApps
Nabox will support the regular and cross-chain transfers of Cronos assets
NaboxSwap will support cross-chain swaps between Cronos assets across other chains supported by Nabox
Users will be able to interact with Cronos on Nabox, and quickly transfer assets to different networks through the cross-chain function of Nabox, participating in the applications of each network.
Gary Or, Founder of Particle B said: "We look forward to having Nabox's support on the upcoming Cronos mainnet. This will allow users to perform cross-chain transfer and swaps across Cronos and other networks, creating a seamless DApp user journey."
Cronos is built upon Ethermint, a Cosmos SDK development framework for launching scalable, high-throughput blockchains that are fully compatible and interoperable with Ethereum. Cronos launched its testnet on July 20, 2021, and is currently onboarding projects to the platform. Projects can instantly port to Cronos from any Ethereum and EVM-compatible chains, with support from the USD 100 million CRO EVM Fund and exposure to Crypto.com's user base of over 10 million.
We hope that the Cronos community is as excited as we are about this partnership!
About Cronos
Cronos is the EVM chain running in parallel to the Crypto.org Chain. It aims to massively scale the DeFi ecosystem, by providing developers with the ability to rapidly port apps from Ethereum and EVM-compatible chains, with funding from Particle B's $100m EVM fund and access to the 10M+ user base of the Crypto.com ecosystem.
Get involved now: Documentation, Explorer & GitHub.
Follow us on Twitter, Discord & Telegram.


Join the Nabox Community
▲ Website: https://nabox.io
❒ Whitepaper: https://nabox.io/litepaper.pdf


Telegram: Telegram: Contact @naboxcommunity


Twitter: https://twitter.com/naboxwallet


Discord: Nabox


Medium: https://naboxwallet.medium.com