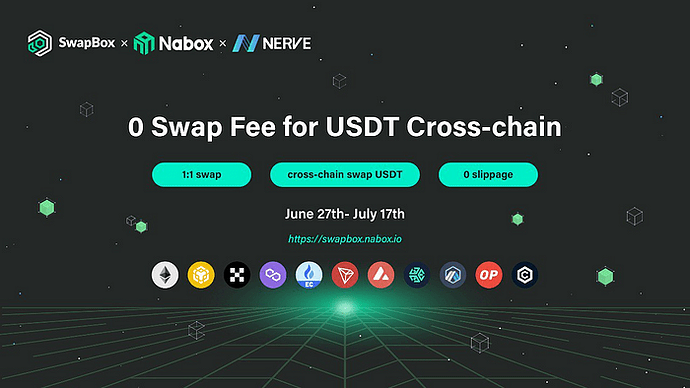 Dear SwapBox Users,
We are pleased to announce a special event for our cross-chain USDT swap feature on SwapBox, with zero swap fees for a limited time.
SwapBox, the Intelligent Cross-chain DEX Aggregator, is a multi-chain aggregation protocol under the Nabox ecosystem, dedicated to facilitating cross-chain swaps by intelligently finding the best conversion paths. Currently, SwapBox integrates popular DEX channels such as 1inch, DODO, Nerve, and SWFT, supporting nearly 3000 different assets across 27 networks including Layer1 and Layer2 solutions. Our goal is to provide the community with a seamless experience for swapping assets across blockchains.
As a token of gratitude for the continuous support from our community members and to encourage more users to explore and experience the built-in Swap feature (SwapBox DApp) in the Nabox wallet, we are launching a limited-time event for cross-chain USDT swaps on SwapBox with zero transaction fees.
You can access the SwapBox DApp (https://swapbox.nabox.io) by using wallets such as Nabox, Metamask, TokenPocket, TrustWallet, MathWallet, and ONTO.
Event Period:
June 27th, 08:00 AM (UTC) — July 17th, 08:00 AM (UTC)
Event Details:
Zero swap fees are applicable for cross-chain swaps of USDT assets through the Nerve channel. The promotion does not impose any limits on the amount of USDT being swapped across blockchains.
You can freely choose to perform cross-chain exchanges of USDT assets among various networks such as Ethereum, BSC, OKTC, Polygon, TRON, Heco, Avalanche, KCC, Arbitrum, Optimism, and Cronos, based on your own needs.
Note: Cross-chain swaps outside the Nerve channel and swaps within the same network are not eligible for this event.
We welcome you to join the Nabox community. If you encounter any related issues while using SwapBox, we will provide prompt one-on-one support and assistance.
SwapBox Tutorial: https://forum.nabox.io/t/swapbox-guide-swap-cross-chain-swap-stake-your-assets/81
Thank you for your continued support and we look forward to providing you with a seamless cross-chain swap experience on SwapBox.
We would like to thank REI Network, SpaceID, LFGSwap, PlaySky, ENULSID, IVY Market, Wormhole3, Nutbox, NERC20, IceCreamSwap, INTO, BG Trade, CaringMeadow, UQUID, AC capital & Coinvoice, Omni venture, CRYPTO VIEW, Unamano, LightHouse, NOOT, Maxity, 7 O'clock, Warter Rabbit, Finn, Ariva, AlienSwap, SFT Protocol, Newland, StarryNift, Trantor, DAppRadar, AliceJiang, CryptoZoonARB, DeBox, FERC20, BRG, Tacus for their strong support in this campaign!
Community Support:
Join Nabox Telegram Community: https://t.me/naboxcommunity
Join Nabox Discord Community:https://discord.gg/mQVXZJXMkn
Customer Support: https://t.me/Nabox_Wallet
Sincerely,
Nabox Labs
June 27th, 2023
About Us
Nabox is a cross-chain DID application built for Web3.
With Nabox, you can manage assets across different blockchains whether for DeFi, GameFi, NFTs, and other use cases that come up. Nabox is your gateway to the multi-chain world.
Nabox ID uses an asymmetric cryptographic algorithm as the basis of Nabox's DID. Users use the same set of keys and public keys to manage assets and data on different blockchains.
SwapBox aggregates mainstream DEXs to provide users with asset exchange and asset cross-chain exchange, and intelligently find the best exchange path.
Nabox — The Multi-Chain DID Gateway to Web3
SwapBox — The Intelligent Cross-chain DEX Aggregator