Nabox Chrome Plugin now supports over 30 blockchain networks, including Ethereum, BSC, Heco, OKC, Polygon, Avalanche, Harmony, KCC, Cronos, Arbitrum, Fantom, Optimism, IoTex, Metics, Celo, Klayth, Gnosis, Aurora, Theta, CSC, Moonriver, Moonbeam, Oasis, Wanchain, smartBCH, HSC, Boba, GateChain, NULS, NERVE and so on. It achieves cross-chain functions via Nerve's cross-chain capabilities.
Nabox Chrome Plugin allows users to transfer multi-chain assets to different blockchain addresses, realizing the one-click transfer across multi-chain addresses under the same digital identity. It supports Web3.0 and Wallet Connect protocol for application connection.
1. Install Nabox Chrome Plugin
Install from Chrome web store:
Search "Nabox" on Chrome Web Store, then select "Add to Chrome".
Install from the official website:
Enter https://nabox.io/, and select "Chrome Plugin". Click "Chrome Store Download", and "Add to Chrome".
2.
To create an account: Set a password with 8–20 characters and confirm. Click "Set Password" to enter Nabox Wallet Plugin.
To import an account: Input the private key, set the password, and click "Import" to enter Nabox Wallet Plugin.
Note: The password you set is the same as the passwords of all the addresses in Nabox Wallet Plugin. Make sure to back up your private key. Your private key is in the "Account Settings".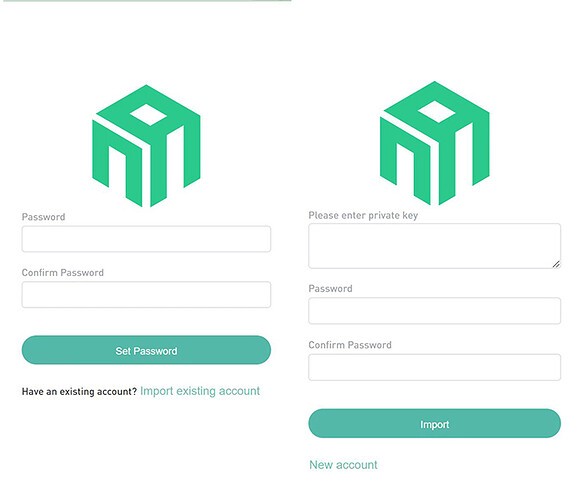 3. Set Nabox Plugin Wallet
Click the gear icon in the upper right corner, then you can reset the password, manage the network, set node, and switch languages.
4. Manage Account
Click your account name and select "Manage the current account", and you can backup your private key or remove the account.
5. Add Other Assets
You can check your assets and transaction records on the main page. If you want to add other assets, click "+" to find assets and their token contracts.
6. Transfer assets
Send: Input the transfer address and amount. Choose the network and input the account.
Note: It requires the corresponding assets on the chain as fees. For example, if you want to send assets via BSC, you need to possess BNB assets to be charged as fees.
Bridge: You can transfer your assets across different chains via NerveBridge.
Note: When NerveNetwork conducts cross-chain transfer as an intermediate chain, it is necessary to ensure that your Nerve address has enough NVT for cross-chain fees.
Swap: Click "swap", and it will turn to the page of SwapBox, where you can enter "Swap" to swap assets across multi chains.
L1 Farm: L1 farm allows you to stake your LP tokens on SwapBox and earn incomes from multi-chains such as Ethereum, BSC, Heco, OEC, and Polygon.
Layer2:Layer2 allows you to stake assets in SwapBox pools.
Liquidity: Liquidity enables users to Deposit and Withdraw assets from supported blockchains to NerveNetwork.
L2 Farm: After adding liquidity in SwapBox Layer2 pools, you can participate in L2 Farming using your LP tokens.
Learn how to interact with the features provided by SwapBox in our previous Medium article: SwapBox User's Guide. What is SwapBox and what can we do with… | by Nabox | Medium
7. Access Hot DApp
Click the button on the left, then you can see "Hot DApps" and "Recent". Select the network and click the DApp to access it.
Join the Nabox Community
▲ Website: https://nabox.io
❒ Whitepaper: https://nabox.io/litepaper.pdf


Telegram: Telegram: Contact @naboxcommunity


Twitter: https://twitter.com/naboxwallet


Discord: Nabox


Medium: https://naboxwallet.medium.com
About Us
Nabox is a Cross-chain DeFi wallet with DID capabilities built for Web3.
Built on the cross-chain friendly NULS blockchain, Nabox enables seamless transactions and swaps across various chains via NerveNetwork technology.
Nabox — the simple, user-friendly gateway to DeFi.